Surly Cross-Check – Jacob
15. Juni 2022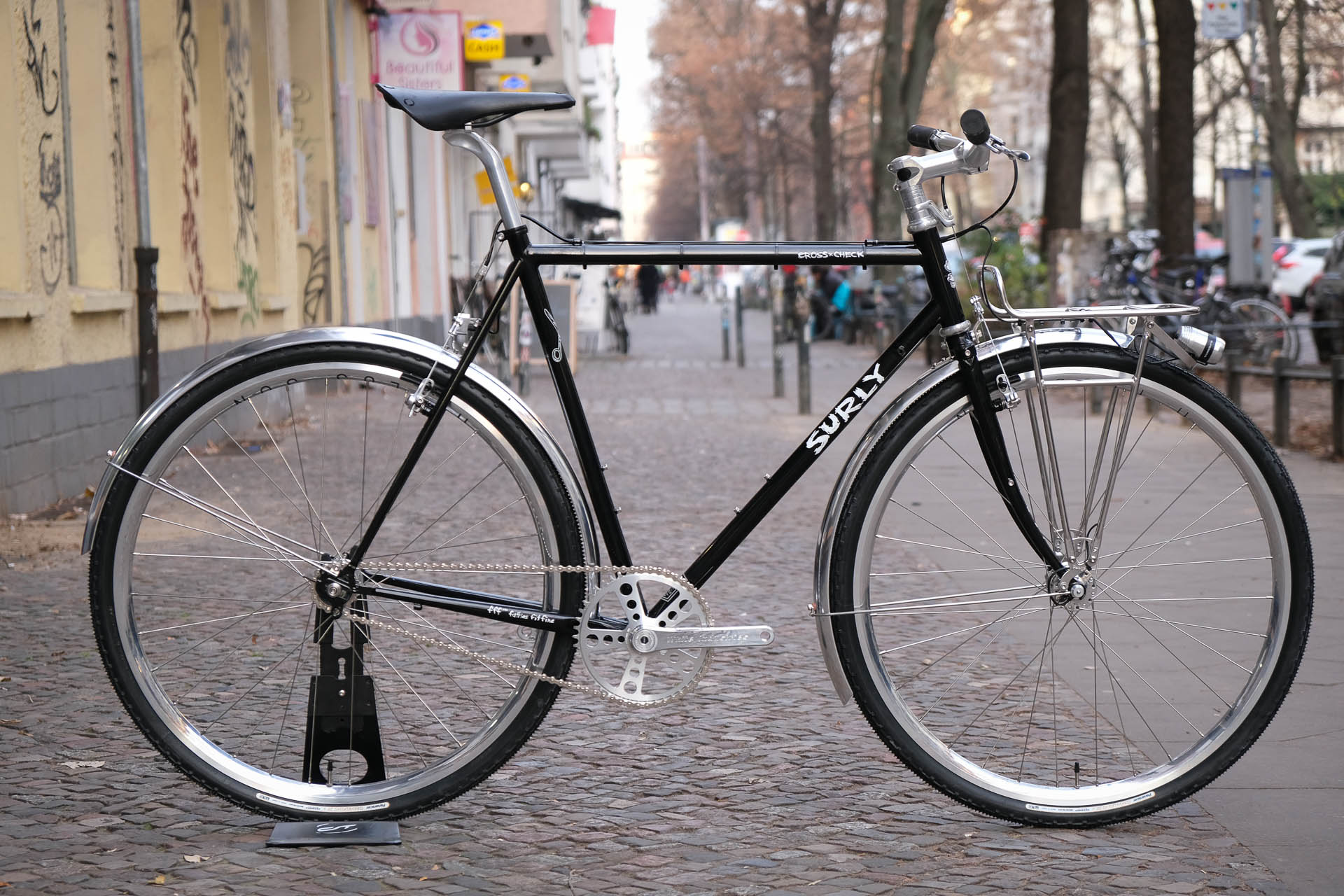 Going through the archives we found some custom gems that we havent shown you yet. For Jacob we made this awesome Surly Cross Check Singlespeed build with only the best: White Industries crankset, SON Dynamo and Surly Ultra New rear hub laced to H+SON Archetype rims, Chris King headset, Brooks cambium saddle on Velo Orange […]
MASH SF AC-2
17. Februar 2021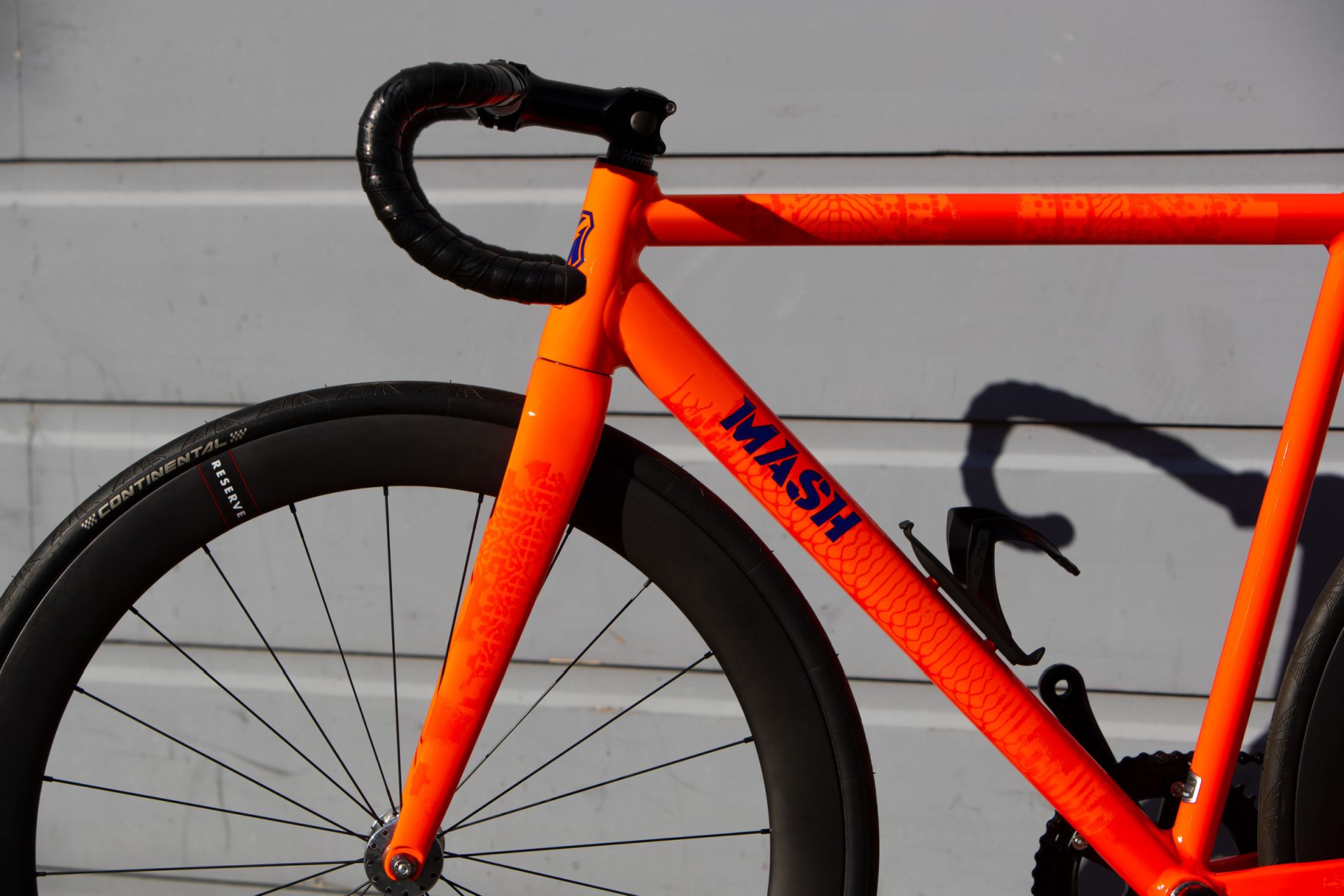 We are really sorry we kept you waiting for these beautiful @mashsf AC-2 framesets so long. But finally they are to arrive this week and all available stock will go online in our webshop on saturday evening. We dont offer any preorders before that exept you want a complete bike build by us. In that […]
Aventon Mataro silver
7. August 2014
Another admirable Aventon Mataro singlespeed bike with Goldsprint track crankset, H+Son wheelset and Cinelli parts.
Goldsprint 13 Classic – Matthias
17. Juli 2014
New shiny Goldsprint 13 Classic singlespeed bikewith a silver and black component mix for Matthias.
Goldsprint 13 – Thomas
23. Juni 2014
Thomas was looking for a light and stiff urban singlespeed bike. What he got is the Goldsprint 13 with BLB Track/ H+Son Archetype wheels, stiff SRAM S300 crankset and riser bar.
Goldsprint Al Capone – Alex
27. Mai 2014
Alex got a classic Goldsprint Al Capone frameset with custom colour and a nice clean setup with H+Son TB-14 rims.
Goldsprint 13 Airwing
8. April 2013
Paul was one of the first getting a build up from the newest Goldsprint 13 batch. He got himself an agressive singlespeed bike with a Profile Airwing bullhorn ba, H+Son SL42 rims, SRAM S300 crankset and a lot more.
click picture for more
Tokyo Fixed S2
28. Februar 2013
Another beautyful Tokyo Fixed S2 singlespeed bike left out shop some days ago. Equipped with H+Son TB-14  rims, Gran Compe track hubs and the beloved Sugino 75 crankset.
Goldsprint Al Capone green
13. September 2012
Wieder einmal haben wir ein wunderschönes Rad dessen Farbe an das klassische british racing green angelehnt ist. Diesmal der gemuffte, hauseigne Al Capone mit hauptsächlich silbernen Teilen und Brooks Ledergriffen und Sattel.
Leader 722TS Heritage Edition
23. August 2012
Auf Basis des aktuellen Leader 722 Heritage haben wir dieses wunderschöne, klassisch anmutende Singlespeed Bike zusammengebaut. Leder an Lenker und Sattel, schlichte LDG Naben in H+Son Archetype Felgen in kombination mit Black Mamba Reifen mit gumwall unterstreichen den klassischen Look.